Brocato, Gemma: Hearts in Harmony, A Five Senses Novel, Book #2
Hearts In Harmony
A Five Senses Novel Book #2
by Gemma Brocato
Genre: Contemporary Romance
Publish Date: May 5, 2014
Publisher: Lyrical an imprint of Kensington
Tour Organized by Literati Author Services
~Synopsis~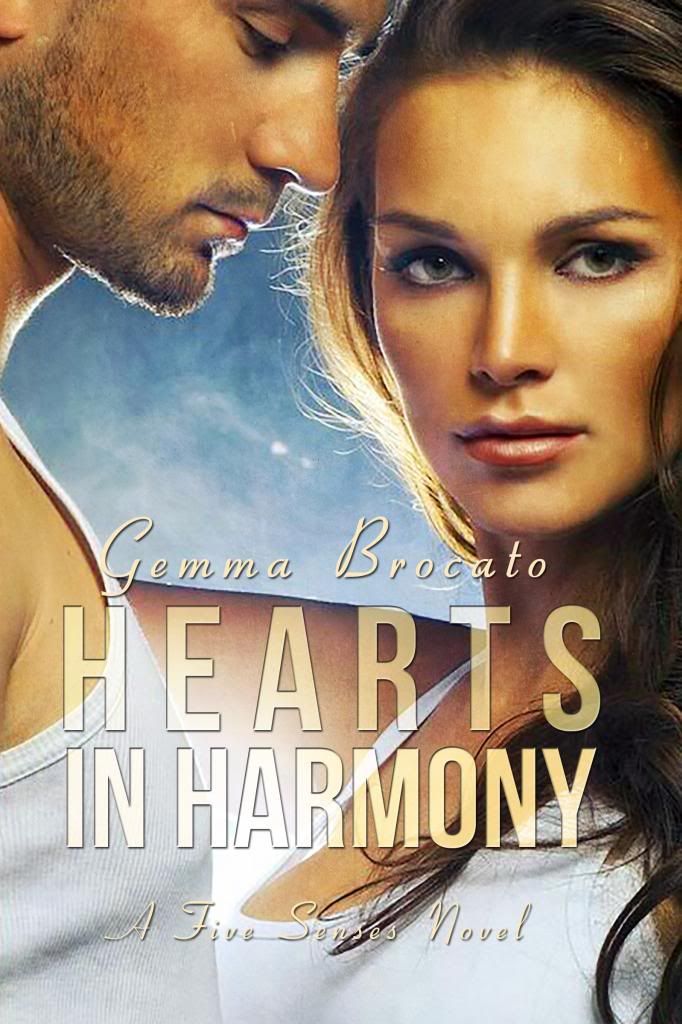 Pippa Sanders' life is filled with songs of leaving, longing and loneliness. Since the death of her husband, her children have been her world. She'll do anything to protect them, including encasing her heart in ice until they're college age. She's made a practice of shying away from any relationship that could break her heart when it ends. And it's worked so far.
Clay Mathers has made a temporary move to Granite Pointe, Massachusetts to help with his mother's Christmas tree farm while she recovers from a stroke. Although his long-range plans don't include staying in the small town, a little female companionship during his short residency would be welcome. While on duty as sentry against protestors at a military funeral, he finds Pippa visiting her husband's grave, and begins a campaign to make her into a friend–with benefits.
What starts as a simple affair evolves to something more, something that changes the soundtracks of both their lives…the beating of two hearts in harmony.
CONTENT WARNING: Contains strong language, hot sex and a spicy hero.
 Purchase Links

Hearts In Harmony Excerpt
"You! Hello again," she said, clutching the bag in front of her like a shield.
So, she did remember him. But why the hell was she acting nervous? Clay didn't like that one bit.
"Yeah, me again. I'm glad to see you. Were you looking for me?"
"Oh, God no!" she exclaimed, the words deflating him. Why the heck wasn't she there for him? Oh, yeah, because of the dead man. Delicate pink rushed into her cheeks. "Uh, no. My son left his books here today. He was on a field trip with school. I didn't mean to bother you, but the other man left the backpack on the porch."
She had a son. That was a bit of a surprise. Clay gestured toward the ornately decorated box near the rocker. "My mom's idea. The school kids leave stuff behind all the time."
"Yeah, that's the way those youngsters are. Always forgetting things. Good thing they have mothers who are willing to run out and fetch for them."
"Yeah, a good thing." He smiled and changed the subject. "I thought you might be here looking for some company for a trip to the cemetery."
She stilled when he reminded her of their first meeting. She was a tall woman, with legs underneath a khaki skirt that looked like they'd never end. Normally Clay found himself stooping to kiss women, so her height impressed him. He knew from their meeting yesterday that she fit nicely under his chin. She drew her slender frame even taller while he stared at her.
"Not likely. That kind of company I don't need. Dewey was bad, but when you showed up, things looked like they might be getting worse when you grabbed me."
"Hey, I was just trying to prove a point. You shouldn't have been there alone at dusk."
She pushed her dark brown hair back from her forehead, tucking the short breeze-blown curls behind her ear. "Point taken. And given the circumstances, I managed, didn't I?"
He'd made her angry again, but it was worth it. The fire snapping in her eyes was nearly mesmerizing. "This time. But if a man is intent on getting his way, don't think a little kick in the knee will make a difference. Especially when the woman is as pretty as you."
"Well, if I ever feel the need to have a big strong he-man stand by my side beating his chest, I'll give you a call." From her tone, Clay wasn't sure if she was flattered or still ticked off. "But you shouldn't hold your breath."
Yeah, he was going to have to go with ticked. He thought he'd just paid her a compliment. Obviously, she didn't take it that way. He laughed, hoping to ease the tension he'd created with his words. "He-man. I like that. Seriously though, I've heard the Battalion rank and file has been getting violent at some of the protests. There have even been rumors that the protesters plan to send a big message soon. You don't want to get caught up in any of that."
"And you know this why?"
"It's my job to know. I'm a…security consultant." He wasn't sworn to secrecy on his current project for Homeland Security, but he didn't want Dewey and the other Battalion bubbas to get wind of his involvement if he could avoid it.
The woman looked at him skeptically. "Oh. Well, thank you again for your rescue yesterday and for finding the book bag. I…uh… I'll get out of your way."
He caught a whiff of lavender and vanilla as she pushed past him on the narrow porch. She smelled fresh, clean, very womanly. Without thought, he shot out a hand and grabbed her elbow to stop her. Jesus God, her skin was soft and smooth, like satin. When she attempted to jerk her arm away, he held on tighter. "Wait, I don't even know your name."
Thank you very much for having me over today. I'm delighted to share my new novel, Hearts In Harmony along with some of my favorite quotes and what they mean to me.  So let's dive right in.
"Change happens. Capitalize on it or capsize under it." Chuck Reeves

I first heard this from a business and sales consultant hired by a company I worked for years ago. He uttered those fateful words just as he announced everyone was changing roles and job duties within the structure of the company. He was telling each of us we have a choice on whether we would take the changes and work them, or let them bury us. I've always been a Pollyanna and strive to see the bright side of every situation and find a way to make it work for me. It's something I try to infuse into my characters every day. Although, I think it would be great fun to try to write someone who refuses to change.
"You are your only roadblock" Unknown

This is another quote from a former co-worker whose name escapes me right now. It occurred in a meeting meant to motivate employees. His words came at a particularly opportune time, because I'd just broken up with a boyfriend and was wallowing in self-pity. I added the words to your happiness to the end of the quote to fit my situation. Once again, it was all about choice. I could choose to pull myself up by my pantyhose and get on with living my life, or forever mourn the demise of my relationship. I invested in those words until they became a mantra of sorts. Many years later, I'm better and happier because I made a conscious choice to not be a roadblock.
"This above all; to thine own self be true" – William Shakespeare

When I hear these words, I am reminded that no one else can tell the stories my characters have entrusted to me. People can recommend changes to my characters' traits, or suggest courses of action. But only I get to decide whether the guy gets the girl, or the hero has to start as a gruff so-and-so who is constantly angry with the heroine. No one can tell me to not put dirty words in my heroine's mouth. No one gets to suggest my story might be better if I move the location to the beach or mountains. To me, Mr. Shakespeare is telling me to do it how I want. And I do like having that power.
Do you have a favorite saying, or expression you live by? I'd love it if you'd share.
About the Author
Gemma's favorite desk accessories for many years were a circular wooden token, better known as a 'round tuit,' and a slip of paper from a fortune cookie proclaiming her a lover of words; some day she'd write a book. All it took was a transfer to the United Kingdom, the lovely English springtime, and a huge dose of homesickness to write her first novel. Once it was completed and sent off with a kiss, even the rejections addressed to 'Dear Author' were gratifying.
After returning to America, she spent a number of years as a copywriter, dedicating her skills to making insurance and the agents who sell them sound sexy. Eventually, her full-time job as a writer interfered with her desire to be a writer full-time and she left the world of financial products behind to pursue an avocation as a romance author.
Her gamble paid off when she was a 2012 Finalist in the prestigious Golden Pen contest for Romantic Suspense and she received contracts for her first and second book.
Author's Social Media

Giveaway

Be sure to enter my Rafflecopter drawing for a chance to win the grand prize pack worth $100. Each item in the pack has some significance to the story. I'll be drawing one random winner on May 31. Good Luck.